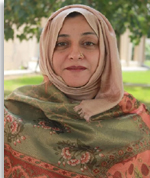 I am working as Assistant Professor in Centre of Excellence in Molecular biology, University of the Punjab, Lahore, Pakistan. I joined university of the Punjab, Lahore Research Officer in 2005. Presently I am also a PhD Research Scholar in Plant Biotechnology Lab at CEMB. My field of interest is Plant Molecular Biology, Plant Transformation, Plant Tissue Culture and Edible Vaccine Production.I had opportunity to work in Bio-Pharmaceutical Unit and Interferon research group for five years from 2005-10.
I achieved a milestone of multiple gene transformation in Cotton during my M.Phil. Research in 2010. Afterwards during my PhD,my primary research efforts now focus on production of edible vaccine against Newcastle disease in chicks which is a major prevailing issue in poultry in Pakistan.
I have been selected as indigenous fellow by Higher Education Commission, Pakistan during my PhD studies and research. I am also honored to join Edible Vaccine production group at University of Pennsylvania, USA as Research Fellow during the year 2015.
My long-term goal is to excel in Biological research and to develop low cost edible vaccine which is easy to disseminate and deliver.